Describing herself as possibly the last of more than 100 victims molested by former Olympic gymnastics team doctor Larry Nassar, a 15-year-old girl confronted the disgraced physician in a Michigan courtroom on Monday and said he will live in infamy like Jack the Ripper or the Son of Sam.
Interested in
Larry Nassar Trial?
Add Larry Nassar Trial as an interest to stay up to date on the latest Larry Nassar Trial news, video, and analysis from ABC News.
Emma Ann Miller stood at a podium in Ingham Circuit Court in Lansing and recounted her memory of being molested repeatedly by Nassar, who she said carried out his perverted acts not only in his examination room at Michigan State University, but also in a storage room.
"My last treatment was in August 2016. A week later, he was let go by MSU," Emma said about Nassar, who had served as the university's sports medicine doctor for more than 20 years. "I'm possibly the last child he will ever assault."
She said MSU sports medicine is still sending her mother bills "for appointments where I was sexually assaulted."
Standing next to her mother, Leslie Miller, Emma spoke out on the fifth day of Nassar's sentencing hearing, in which 144 girls and women have been asked to give victim impact statements.
Nassar faces a sentence of 40 to 125 years, when Judge Rosemarie Aquilina eventually rules on his punishment. Angela Povilaitis, the assistant attorney general of Michigan, told Aquilina at the start of court on Monday that 99 victims had already spoken or had their statements read.
The judge has said she will allow all victims who ask to address the court to speak no matter how long it takes. Among those who have already spoken in court are Olympic gymnastics stars and medalists Aly Raisman, Jordyn Wieber, McKayla Maroney and Jamie Dantzcher. All have accused Michigan State University, the USA Gymnastics Association and the U.S. Olympic Committee of knowing about Nassar's serial assaults for years, and have demanded leaders of the organizations resign.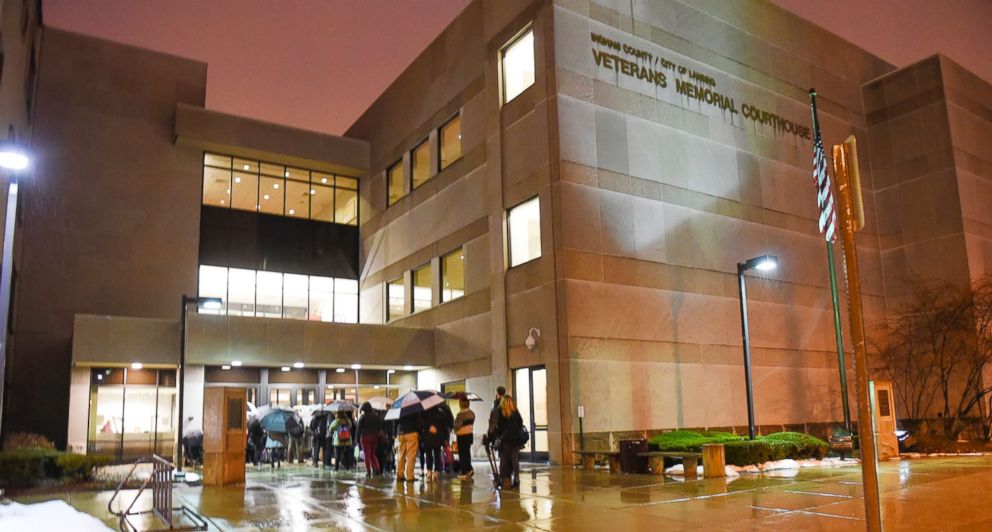 As the latest batch of victims were speaking in court, USA Gymnastics announced that three members of its board of directors resigned on Monday, including Chairman Paul Parilla and Vice Chairman Jay Binder. The group's treasurer, Bitsey Kelly, also resigned.
"We support their decision to resign at this time. We believe this step will allow us to more effectively move forward in implementing change within our organization," Kerry Perry, president and chief executive officer of USA Gymnastics, said in a statement. "As the board identifies its next chair and fills the vacant board positions, we remain focused on working every day to ensure that our culture, policies and actions reflect our commitment to those we serve."
In court, Emma said she and her mother have known Nassar from the time she was born and that the doctor once served as a father figure to her, a thought she said now repulses her.
"I have never wanted to hate someone in my life, but my hate towards you is uncontrollable," she said, speaking directly to Nassar, who was seated in the witness box next to the the judge. "Larry Nassar, I hate you! I will work on forgiving you as I know that is what God wants. But at this moment, I will leave forgiveness up to him."
She suggested that Nassar could start to redeem himself by writing down in detail how many times MSU, the USA Gymnastics Association and others responsible for protecting athletes could have stopped his serial assaults instead of turning a blind eye to numerous complaints dating back to the 1990s.
"Do the right thing for us," Emma said. "Be honest. Try to help us. Tell us who knew what and when."
She asked the judge to consider the victims who have committed suicide because of Nassar's abuse and give him the maximum sentence.
"A 40-year minimum sentence is not long enough and it doesn't send the right message," Emma said.
She said she realizes that Nassar will likely spend the rest of his life in a federal prison, where he will be "fed, he will be clothed and he'll be provided actual medical treatment."
"But don't be too excited Larry," she said looking at Nassar, "you will probably never ever talk to a woman again except for one holding a gun, a Taser and a billy club, which is a good thing."
"He has forever identified his name with child sexual abuse," she added. "His legacy as a 'medical god' has been poisoned by his sickening desire to molest children. Long after the Olympic gymnast doctor fades into a trivia fact known only by us or a Jeopardy contestant, the word Nassar will be permanently associated with child sexual abuse, kind of like Jack the Ripper, Son of Sam and Lee Harvey Oswald."
Nassar pleaded guilty to sexually assaulting seven girls in November. He has already been sentenced to 60 years in prison after pleading guilty to federal child pornography charges. He has been accused of sexual misconduct by more than 125 women and girls in civil lawsuits.
Several other victims spoke on Monday, as well.
Kamerin Moore, who drove miles overnight to confront Nassar. She said she began seeing Nassar for treatment at the age of 10 when she suffered an injury performing gymnastics. She said Nassar molested her shortly after her father died and he was serving as a father figure. She said Nassar once asked her if he could videotape himself doing the treatment on her and she said no.
Moore said Nassar also molested her brother, after he injured his shoulder while doing gymnastics. She said Nassar put acupuncture needles near her brother's genitals to treat his shoulder.
Presley Allison, like many other victims, said her mother was in the room when Nassar began abusing her at the age of 14.
Clasina Syrovy sobbed at times as she gave her statement. She asked Nassar, "What relationships did you form with presidents, higher-ups … that they stood by you and swept this all under the rug. Guess what, they're not standing behind you now."
Crying, Syrovy added, "Why didn't they listen?"