A police officer who was surrounded by a gang and beaten unconscious has said he would welcome changes to the law to give emergency workers more protection.
James Dowler was a uniform officer for South Wales Police when he tried to stop a suspicious driver.
He had his eyes gouged by a female passenger, before being punched in the face. Three of the car occupants were later jailed for the attack.
AMs gave their support on Tuesday to a new law for 999 staff.
Labour MP Chris Bryant wants to double the maximum sentence for common assault on an emergency worker to a year.
The Rhondda MP said there were 20 such assaults in Wales a day.
AMs unanimously agreed on Tuesday that the Parliamentary legislation, which has been given support by the UK and Welsh governments, can apply to assaults on workers in the Welsh NHS and fire services.
Det Sgt Dowler said any additional protection for 999 staff had to be welcomed, as he described the attack on him.
He had stopped late at night after spotting a parked car with smoke coming from the wheels.
But as he approached the vehicle, the driver ran off, and the officer chase him – ending up on the floor with the man.
"Whilst I was holding onto the driver on the floor one of the female occupants of the car jumped on my back and started gouging my eye," he told the Good Morning Wales programme on BBC Radio Wales.
"I realised at that point I was in serious trouble with a large number of people around me and I was by myself."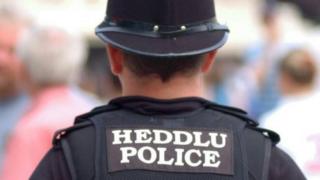 He managed to activate his emergency radio alarm but then the assailants threw his radio away.
"I felt completely vulnerable, and completely alone at that point."
A further scuffle developed with another passenger, before he was hit.
"We were sort of grappling for a short amount of time and at that point he punched me to the face and I fell to the floor in some sort of state of unconsciousness."
He said a judge described his facial injuries as some of the worst he had seen, when the three attackers were caught and went to court.
The driver was given a six month sentence, while the other two attackers received two year jail terms.

What is the planned law?
The Assaults on Emergency Workers (Offences) Bill has already jumped some major parliamentary hurdles after Chris Bryant won the ballot last June to bring forward his bid for a new law.
Although AMs backed the legislation on Tuesday, it is MPs in Westminster that will make it law.
The bill has had its introduction and crucial second reading in the House of Commons, and has been considered at the committee stage. It will now come back before MPs in April, before being considered by peers in the House of Lords. If it continues to win cross-party support, it stands a good chance of making it the statute book.
The legislation calls for increasing the maximum prison term for the offence of common assault from six months to 12, if the victim is an emergency worker or assisting an emergency worker.
If the offence is more serious than common assault – crimes causing serious physical injury – the fact the victim is an emergency worker will be classed as an aggravating factor when it comes to sentencing offenders.
It could mean fewer suspended sentences in the future, and stiffer penalties from judges.
Blood samples could also be taken from those suspected of assault, where there is a risk of spreading an infectious disease by their actions, such as spitting or biting a person
Police officers, custody officers, fire and rescue service workers or volunteers, search and rescue service workers or volunteers and anyone engaged in providing NHS health services are among those covered.
"An attack on an emergency worker is, in a sense, an attack on all of us because they're simply trying to save other people's lives," Mr Bryant said.
"I just think that we need to say loud and clear that if you attack an emergency worker, we will not put up with it."
The principles behind Mr Bryant's bill have been backed by UK government ministers, and their Welsh Conservative colleagues in the assembly supported the consent motion for the bill.
Welsh health secretary Vaughan Gething said: "It is shocking to hear continued reports of emergency workers being attacked both physically and verbally while simply doing their jobs, trying to keep us all safe and well. This bill is part of dealing with this.
"We want emergency service workers in Wales to have the same protection as those in England and on the same timescales."
Under existing rules, AMs have to give consent to legislation from Parliament that applies to powers which are devolved to the Welsh Assembly and the Welsh Government.
In this case, the Welsh Government tabled the motion because the law affects the NHS and fire and rescue services, which are devolved.